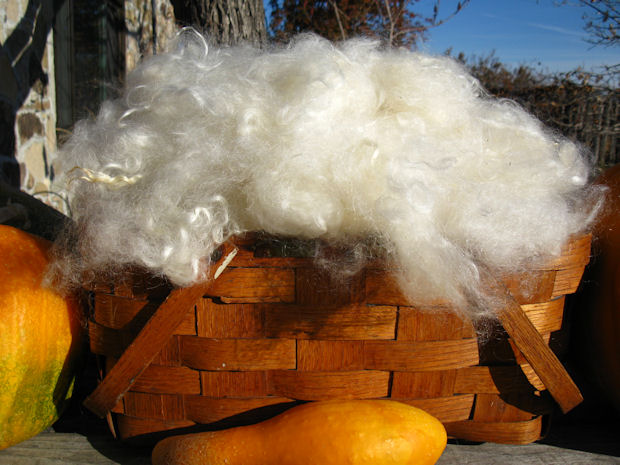 Mohair* is a soft, strong, warm, lightweight and lusterous all natural fiber from Angora goats.  It is suitable for hand spinning, weaving, felting or blending with other fibers such as wool.  When blended with wool it will add strength and luster.  Mohair takes dye well producing a bright colorful fiber.  Mohair also makes good doll hair, doll wigs, and Santa beards.             
Mohair is available for sale in white and a variety of natural colors.  We hand shear our own mohair twice a year, in the spring and fall.  All of our mohair has been skirted to remove excess debris.  Raw unwashed fleeces are available.  In a raw unwashed fleece there is still the natural grease with some dirt.  Some vegetal matter may be found in the fleece.  Our goats are not coated.  They live a natural life style here in the Escalante Valley of southwestern Utah.  See our  Raw Fleece Washing Instructions (Mohair and Wool) page.

Kid fleeces:   $11.00 per pound plus shipping.       
Kid fleeces are the softest and finest fleece an animal will have in their lifetime.  
Buckling (white kid hair first shearing) now available.
Yearling fleeces:  $9.00 per pound plus shipping.

None available at this time.

Adult fleeces:  $7.00 per pound plus shipping.
White, grey, and tan adult mohair is available for sale now.   Staple length varies from 5 to 7 inches.  See our Angora Goat Doe Photos page to see the fleece colors.

Adult White fleeces:

Dancer (NAG #39) (white).  Loose open locks.
Tsaile (NAG #42) (white).  Loose open locks.
Bent Horn (NAG #41) (white).  Loose open locks.
Adult Colored fleeces:

Lady GaGa (#38) (black/dark grey).  Lady GaGa has loose open locks.

Onyx (#29) (black/dark grey).  Loose open locks.
Natural black mohair may have some grey or white hairs, it is not 100% pure black.

Mohair is a renewable resource!

*Mohair is the fleece of the Angora goat.