Mohair is a soft, strong, warm, lightweight, and lusterous all natural fiber from Angora goats. It is suitable for handspinning, weaving, felting or blending with other fibers such as wool. When blended with wool it will add strength and luster. Mohair takes dye well producing a bright colorful fiber. Mohair also makes good doll hair, doll wigs, and Santa beards.
Mohair is available for sale in white and a variety of natural colors. We hand shear our own mohair twice a year, in the spring and fall. All our mohair has been skirted to remove excess debris. Raw unwashed fleeces are available. In a raw unwashed fleece there is still the natural grease with some dirt. Some vegetal matter may be found in the fleece. Our goats are not coated. They live a natural life style here in the Goose Lake Valley. See our raw fleece washing instructions at the bottom of this page.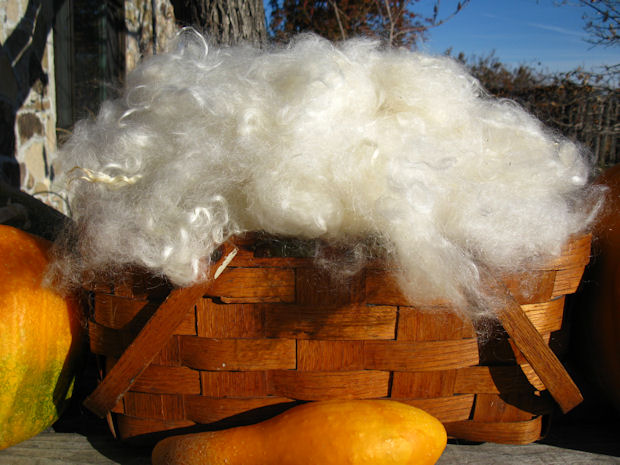 Kid Fleeces: $11.00/lb. + shipping.
Kid fleeces are the softest and finest fleece an animal will have in their lifetime. None currently available.
Yearling Fleeces: $9.00/lb. + shipping.
Sold out until fall.
Adult Fleeces: $7.00/lb. + shipping:
White mohair from our Navajo Angora Goats will be available in the spring when we shear (April). Loose open locks. Staple approx 5 inches.
- Dancer (NAG 198) (white).
- Chinle (NAG 199) (white).
- Tsaile (NAG 202) (white).
- Bent Horn (NAG 203) (white).
Lady GaGa (black/dark grey, mostly black) adult mohair. Lady Gaga has loose open locks. Staple 5+".
Black mohair may have some grey or white hairs, it is not 100% pure black.
Following colors are available now, tan (Cedar), gray (Slate), and black (Onyx) adult fleeces.
Raw Fleece Washing Instructions (mohair and wool):
We have found regular blue Dawn dish soap and warm water works well to wash a fleece. We wash them by hand being careful not to matt or felt them and keep the locks loose. This means gently washing/ dunking/ soaking them in soapy warm water and rinsing thoroughly without too much agitating or scrubbing, then let air dry.
Set up four buckets with warm water (comfortably hot to touch), do two washes and two rinses, rotate and change buckets as the water gets to dirty i.e. the first wash gets dumped, then the second wash becomes the first. The new clean bucket becomes the last rinse and you keep doing this until your fleece is washed. Wash a small towel size of fleece at a time. It's better not to try and do the whole fleece at once i.e. towel size pieces/bucket. Let air dry completely before carding or spinning.
Mohair is a renewable resource!
*Mohair is the fleece of the Angora Goat.
Payment Information:

Please contact us to place an order. We will then email you an invoice that can be paid securely through PayPal at no additional cost. A PayPal account is not required.
Personal checks also accepted drawn on U.S. Bank in U.S. Dollars. Products will be shipped after the check clears the bank.
Small additional processing fee for international orders (1% of order total).
We ship via the US Postal Service.
Contact Us:
Ovie Ranch
Lakeview, Oregon
541-947-2008
emails preferred